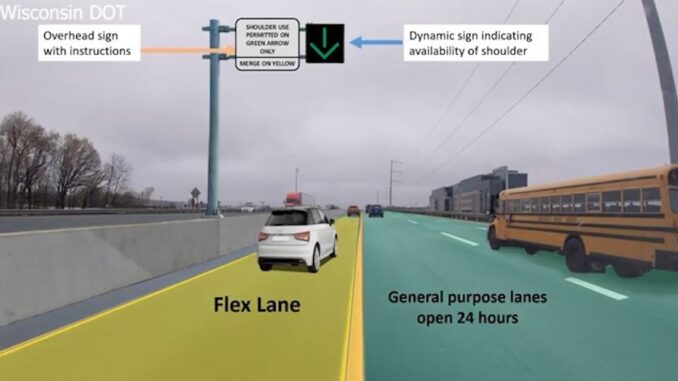 It's a first for Wisconsin: a project that will allow vehicle traffic on paved shoulders during peak travel times. While the Wisconsin Department of Transportation (WisDOT) is studying a longer-term fix for the Beltline, travelers moving through the Madison will soon benefit from an initiative to improve the Madison Beltline (US 12/18) Highway.
Billed by WisDOT as the Flex Lane project, this initiative will also feature highway improvements along the Beltline from the Whitney Way exit to the I-39/90 interchange to address deteriorating pavement, improve existing drainage deficiencies, and replace the existing median barrier wall. The $45.1 million project has a planned start date in March, with completion expected by December of 2021.
The premise behind Flex Lanes is straightforward: changeable message signs, such as a green downward arrow located above the lane, will indicate when the shoulder is available for use. A red "X" will be displayed when the lane is closed. The project will take place within the existing footprint of the Madison Beltline.
At least 17 other states employ part-time shoulder use. It is recognized as a safe, sustainable, and reliable way to alleviate congestion during peak traffic periods, special events, and other incidents that impact traffic.
Dane County, specifically Madison and its suburbs, continues to lead the state in population growth. Since 2010, Madison, Fitchburg, and Sun Prairie have been among the fastest-growing communities in Wisconsin. Dane County adds four to five thousand residents a year, and there is no capacity remaining on the Beltline to handle the increasing demand.
Because of this growth, Wisconsin's Transportation Projects Commission authorized the study of long-term solutions for this corridor in 2011. WisDOT completed the first phase of this process in 2014. It involved collecting and analyzing origin-destination information for motorized vehicles on the Beltline and in the surrounding Dane County area.
The second and current phase is a ​Planning and Environment Linkages (PEL) Study. The PEL includes an analysis of the Beltline's current and long-term needs to identify and evaluate a wide range of modal strategies and solutions. WisDOT expects the study phase to be completed in 2021, leading into the third and final stage of the study. This last phase will include the National Environmental Policy Act (NEPA) analysis, resulting in a detailed investigation of the PEL summary report's strategies.
The plan is to utilize the Flex Lane for 10-15 years as WisDOT completes the study and crafts a more sustainable solution.
"This [Flex Lane project] will improve daily life for commuters, as well as visitors attending major area events," WisDOT Secretary-designee Craig Thompson said. "It's another example of the department providing a safe, cost-effective solution to address periodic and recurring congestion."
The Dane County Sheriff's Office has reviewed the plan and how other states utilize this tactic. Sheriff Dave Mahoney shared, "Although many first responders were initially skeptical about the Flex Lane, after learning more about the plan, including how it is utilized in other states, we believe it is a viable traffic management strategy for improving overall safety and reducing congestion on the Beltline."
This project, as noted, is a shorter-term solution to address the issues of the Beltline. "It might be another 15 years before we see a complete and desperately-needed reconstruction of the Beltline," remarked Paul Jadin, former president and CEO of the Madison Region Economic Partnership (MadREP). "That, and the extraordinary population and business growth in the region, are why the MadREP Board of Directors supports the Flex Lane initiative."