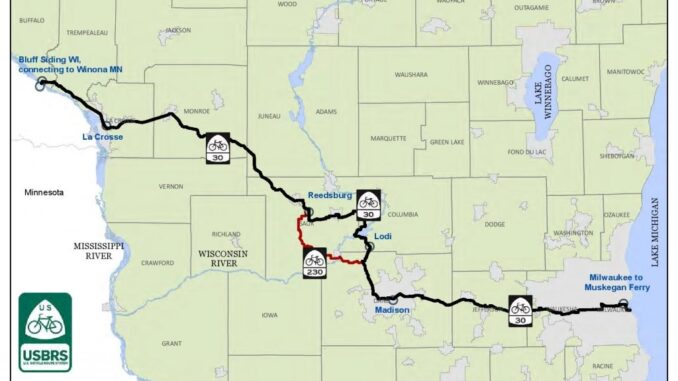 Wisconsin has its first designed national bicycle routes: U.S. Bike Route (USBR) 30 and USBR 230.
The 269-mile USBR 30 crosses the state from east to west, beginning at Lake Michigan in Milwaukee and ending in Bluff Siding on the Mississippi River. USBR 230 is a 40-mile alternate route for use when the Merrimac Ferry is not in operation.
More than 70 communities in 11 counties worked together to create this transportation corridor that is expected to draw local, regional, and national cyclists to communities along the trail.
The benefits of cycling in the state go beyond health and recreation – it also has a substantial economic impact. The 2019 Economic Impact of Bicycling in Wisconsin, released by the Governor's Bicycling Coordinating Council, reports that $1.42 billion was spent by consumers on bicycle-related expenses in Wisconsin in 2017. Bicyclists also contribute to the economy through the money they spend on event entry fees, food and drink, lodging and other items when they ride, tour, and race.
Bicycling is one of the top five favorite outdoor activities for Wisconsinites, and COVID-19 has spurred more people to get on a bike. For some, cycling is a new and creative way to exercise and get out of the house, while for others, it has become a new way to commute.
USBR 30/230 across Wisconsin uses multiple types of existing infrastructure, including state and county bike trails, local roads and bike paths, and state and county highways.
The route guides bicyclists through more than 160 miles of Department of Natural Resources state and county trails. Many are converted former railroad corridors, including:
• Hank Aaron State Trail
• Oak Leaf Trail (Milwaukee County Trail)
• New Berlin Trail (Waukesha County Trail)
• Glacial Drumlin State Trail
• Capital City State Trail
• 400 State Trail
• Elroy-Sparta State Trail
• La Crosse River State Trail
• Great River State Trail
• New Berlin Trail
• Oak Leaf Trail
The American Association of State Highway and Transportation Officials awarded the designation to Wisconsin. The American Association of State Highway and Transportation Officials is a nonprofit representing all transportation modes with the primary goal of fostering the development, operation, and maintenance of an integrated national transportation system. The U.S. Bicycle Route System is an evolving national network of bicycle routes and includes more than 14,000 miles in 29 states and Washington, D.C.