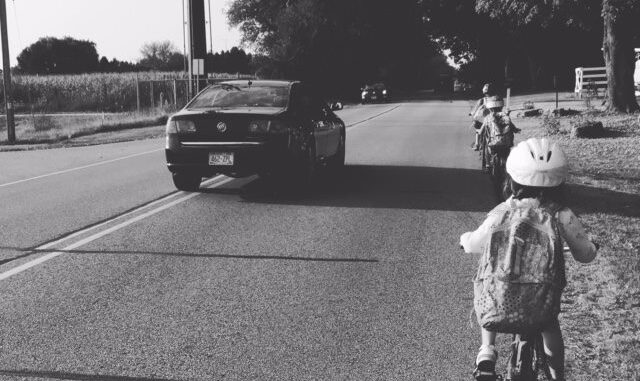 Transportation is moving people or things from one place to another place. When we hear the word, our thoughts may go first to cars, planes, or buses. However, most of us had our first independent experience with transportation as kids walking or biking to school or our friends' houses. Of course, we did not think about it as transportation. It was just a way to get where we wanted to go. And we usually had some fun along the way.
The Village of Williams Bay has been working to provide a safe, active transportation route along Theatre Road for many years. This once quiet farm road has become a busy local collector with the addition of several large residential subdivisions and the consolidation of the Village's schools in the area.
The Village has taken steps to make the stretch of road safer for bikers, walkers, and joggers, adding a 4-foot shoulder on the Village side of the road and reducing the speed limit from 45 to 35 miles per hour. However, these changes have not been enough.
The school board, in coordination with the county sheriff and the Department of Public Instruction, has identified this section of Theatre road as "unusually hazardous." As a result, the Williams Bay School District can claim state aid for providing bussing to and from school for students in the area. Normally, a school district that chooses to provide transportation to students living within two miles of a school would have to cover all the service costs. But bussing students will not eliminate the hazard for students who chose not to ride the bus or walk or bike on the roadway for other purposes.
A 2017 Theatre Road Pedestrian Improvements Study recommended an off-street, shared-use path to separate pedestrians and bicycle riders, especially school-age children, from vehicular traffic, providing a safe route to school. The cost of the path is $700,000.
In 2020, the Village of Williams Bay was awarded $300,000 from a one-time grant program in the 2019-21 budget. Unfortunately, the award had to be rescinded because a subsequent Supreme Court ruling overturned the veto that opened the grant program to all transportation modes.
According to the Village application written in part by Dave Hemmerich, senior engineer with Baxter & Woodman, "Connecting these subdivisions not only to each other, but also to existing on-street bike lanes that lead to downtown and future paths under consideration will help foster social interaction, community, and public health at the same time."
Without additional funding, the Village is unsure how long it will take to get approval to move this critical project forward.