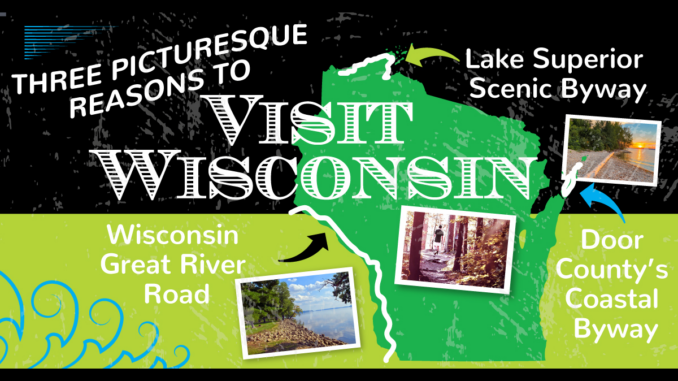 Routes along three of Wisconsin's major waterfronts have won Federal Highway Administration (FHWA) designations for their national importance as tourism destinations. The Lake Superior and Door County Coastal byways were designated National Scenic Byways and the Great River Road became an All-American Road.
"These three scenic routes show off some of the best of what Wisconsin has to offer," said Acting Wisconsin Tourism Secretary Anne Sayers. "As more travelers hit the road this year, we look forward to this well-deserved national recognition inspiring road-trippers from near and far to take in Wisconsin's natural beauty and stretch their legs at the many restaurants, shops, and recreation areas along the way."
Following the Mississippi River on the state's southwestern border, the Wisconsin Great River Road covers 250 miles, passing through 33 river towns on WIS 35. Often called "The best drive in the Midwest," it had been Wisconsin's only National Scenic Byway until this year.
Wisconsin's Lake Superior Scenic Byway follows 70 miles of WIS 13 from Lake Superior's southern shore along the Bayfield Peninsula through quaint harbor towns and historic fishing villages. This is the home of the Apostle Islands National Lakeshore, the Gaylord Nelson Wilderness Area, and the Red Cliff Band of Lake Superior Chippewa. The area offers year-round recreation with hundreds of miles of trails to hike, bike, snowmobile, ATV, and cross-country ski.
Door County's Coastal Byway stretches over 66 miles on WIS 57 and 42. The route begins just north of the City of Sturgeon Bay and follows WIS 57 north on one side of the peninsula to Northport and Gills Rock at the very tip, and then heads south on WIS 42 back to the starting point. The route offers scenic views of Lake Michigan, the Niagara Escarpment bluffs, dense forests, agricultural lands, and charming shore-side communities.
The National Scenic Byways Program was established in 1991 and is part of the U.S. Department of Transportation, Federal Highway Administration. The program is a grass-roots collaborative effort to help recognize, preserve, and enhance selected roads throughout the United States. Roads are selected based on archeological, cultural, historical, natural, recreational, and scenic qualities.
Feel free to use the graphic above to promote Wisconsin and our nationally recognized scenic roadways.