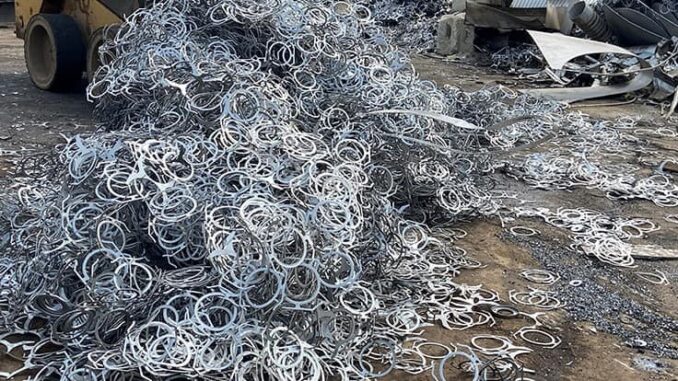 Matalco, Inc. now has much-needed freight rail service at its Wisconsin Rapids plant, thanks to a recent rail spur project that connects its Wisconsin facility to main freight rail lines.
A leading producer of high-quality aluminum headquartered in Ontario, Canada, Matalco receives scrap aluminum at its Wisconsin Rapid location, melts it down, and recasts it as an aluminum billet. The Wisconsin Rapids plant is one of six Matalco facilities in Canada and the U.S. to serve various industries in North America.
A $400,000 WisDOT Transportation Economic Assistance (TEA) grant helped the city of Wisconsin Rapids fund the rail spur project's $793,000 cost. Completing the rail link to Canadian National's main-line track has enabled the company to "receive raw materials and ship completed product in a more cost-effective manner," according to Robert Roscetti, vice president of corporate development for Matalco.
The Matalco facility has been a positive addition to the Wisconsin Rapids area, creating approximately 80 full-time positions. These jobs comprise skilled and unskilled workers, including electrical and mechanical engineers, scientists, administrative staff, managers, and forklift and heavy machinery operators.
Matalco invested $80 million to build the 110,000-square-foot, state-of-the-art manufacturing plant that opened in late 2020, with the expectation that the facility would produce up to 120,000 tons of secondary aluminum billet annually.
Roscetti explained that the company "decided on Wisconsin Rapids as the site of our new plant because of its location relative to our market, its exceptional workforce, and the comprehensive incentive package and assistance provided from both the state and local levels."
Since 2020, Wisconsin's TEA program has awarded 15 grants totaling $7.1 million to support transportation improvements linked to business development projects expected to create 1,367 new jobs and retain more than 700 jobs in Wisconsin.
"This project is a great example of how local communities and businesses can work with the state of Wisconsin to connect the dots to drive economic progress, strengthen our supply chain, and create more good jobs," said Wisconsin Governor Tony Evers.