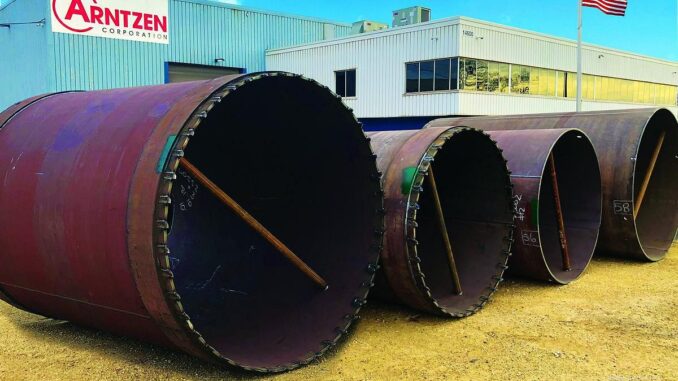 Illinois-based Arntzen Corporation, a manufacturer of large diameter rolled and welded steel casing pipe, will build a $10 million, 78,000 square foot plant in the Village of Sharon in Walworth County.
Essential to this manufacturing site is a new 1,100-foot rail spur to connect the facility to a Union Pacific Railroad line. Rail service will enable the delivery of steel plates to the plant, which will be made into large-diameter steel pipes for underground use.
Arntzen Vice President John Arntzen explained the importance of transportation connections, "Wisconsin's pro-business environment combined with the Village of Sharon's industrial site with rail access made this community the logical choice for our new manufacturing facility. Transporting steel plate from the various steel mills by rail is key to staying competitive as a steel casing pipe mill."
A WisDOT Transportation Economic Assistance (TEA) grant will provide $200,000 of the rail spur project's $630,000 cost.
"Strong infrastructure and strategic investments are key to adding high-skill, high-wage jobs and connecting the dots so our state and economy can grow," remarked Governor Tony Evers in announcing the grant. "I welcome Arntzen Corporation to Wisconsin, and I welcome more businesses to collaborate on transportation solutions and find new success in Wisconsin."
The new Wisconsin facility will replace Arntzen's Rockford plant and employ an estimated 40 workers, with some of the roles filled by relocating Illinois staff.
According to Susan Steel, administrator for the Village of Sharon, this project will bring jobs and economic growth to Sharon.
"This partnership between the Village of Sharon, the State and Arntzen is so important to growing our economic base and creating new jobs," said Steele. "This new manufacturing facility, which will be built on a 68-acre site in Sharon, will provide Arntzen with room to grow in the future and add even more new jobs." Construction of Arntzen's Wisconsin plant is expected to begin this fall, with work on the rail spur in the spring of 2022 and operations beginning later in the year.