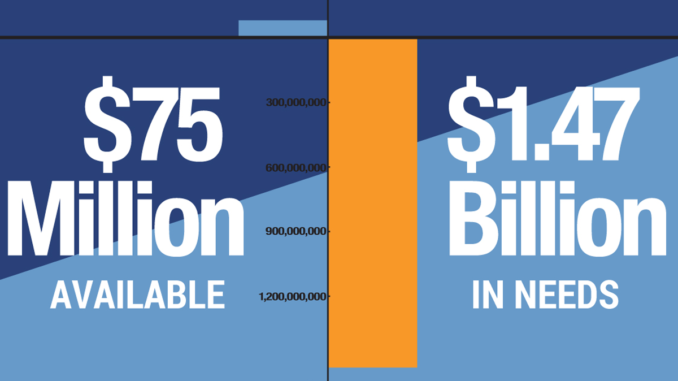 Local government leaders say the overwhelming popularity of a new Wisconsin Department of Transportation (WisDOT) grant program points to a continued need to invest in Wisconsin infrastructure.
WisDOT received 1,596 eligible applications for the one-time $75 million Multimodal Local Supplement (MLS) grant program. The needs detailed in the applications total $1.47 billion.
Mode
Number of
Applications
Documented Needs
(millions)
Roads
1,245
$954.2
Multimodal*
161
312.5
Harbor
9
11.9
Bridge
83
44.9
Bike/Pedestrian
84
109.2
Transit
11
24.9
Railroad
3
8.7
Total
1,596
$1,466.3
* Multimodal means the application includes two or more modes.
"The new MLS grant program not only will help communities with projects all across the state, but it has also provided state officials with a clear, undeniable record of the unmet needs," said Mike Koles, executive director of the Wisconsin Towns Association.
The MLS grant program was included in the 2019-21 budget, and funds awarded may be used for multimodal transportation projects on the local system, including roads, bridges, transit capital and facility projects, bicycle and pedestrian accommodations, railroads, and harbors. The program pays up to 90% of total eligible costs with local governments providing a minimum of 10% cost share.
Said Jerry Deschane, executive director of the League of Wisconsin Municipalities, "The needs are unquestionable, and while we realize this one-time grant program is not a long-term answer to more than a billion dollars of reported local community needs, it is a significant step in the right direction. We have to start chipping away at these lists of projects."
To be eligible, projects required a six-year completion timeframe. Design-only projects, planning studies, and maintenance activities are ineligible for the grants, which will be capped at $3.5 million per project.
"This process truly demonstrates the significant needs of the local system," said Wisconsin DOT Secretary Craig Thompson. "It's pretty staggering when you see the actual number of projects and their dollar value."
The project selection process will be competitive, with a focus on measurable economic benefits. Stakeholders provided input through three local government committees, which met to score project applications. WisDOT will announce MLS project awards in late February.