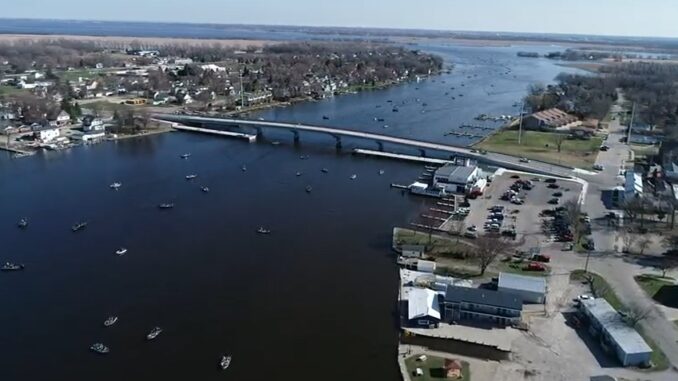 Story updated September 10, 2020
The recently completed WIS 116 bridge over the Wolf River in Winneconne has been selected for recognition from America's Transportation Awards in the category of Quality of Life/Community Development – Small for the Midwest. These awards – sponsored by the American Association of State Highway and Transportation Officials, AAA and the U.S. Chamber of Commerce – recognize projects that implement innovative technology, improve operations, and make communities better.
The WIS 116 river crossing is a critical link in a growing region of the state, connecting area residents to Oshkosh and the Fox Valley via U.S. 45 and U.S. 41. The crossing is integral to those living in the Winneconne area because it provides access to employment, educational facilities, retail, health care providers, recreation, and supports local businesses and trucking access.
In 2019, the Wisconsin Department of Transportation reconstructed the Winneconne bridge to current design and safety standards. The resulting structure improves traffic flow and provides safer accommodations for fishing, snowmobiling, pedestrians, cyclists, and river traffic.
The original structure – constructed in 1934 – had reached the end of its useful life. Built low and close to the water, the bridge had to be raised and lowered for river traffic.
The new bridge has a higher fixed deck to enable river traffic to pass under the bridge without raising and lowering the bridge and improved shoulders and sidewalks. This modernized fixed bridge is significantly cheaper than a lift bridge, both in initial construction and long-term maintenance costs.
The contemporary bridge continues the tradition of fishing in the area with two platforms extending about 220 feet from the shoreline.
To minimize the disruption of traffic flow during the $11.4 million project, WisDOT kept the old bridge open during construction, eliminating the need for a 25-mile detour.
The Winneconne bridge project will now compete with other regional winners across the U.S. for national awards. National winners will be announced in late August.
September 10, 2020 update

The Winneconne bridge has been named one of 12 finalists for America's Transportation Awards. The Top 12 Finalists are competing for the Grand Prize and the People's Choice Award. Both prizes come with a $10,000 cash award, for a charity or transportation-related scholarship of the winners' choosing.
The public is invited – and encouraged – to vote for the People's Choice Award. Voting takes place until Oct. 25, 2020 (one vote per person, per day) – click here to cast your vote.