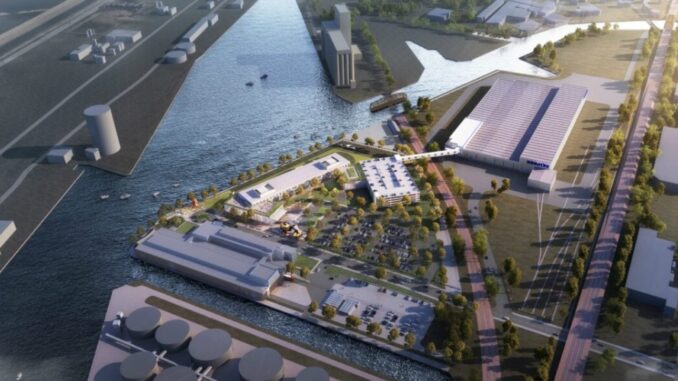 Komatsu Mining Corp. is constructing a $285 million complex in Milwaukee's Harbor District that will allow the company to consolidate its existing manufacturing operations and corporate offices.
Essential to this project is a railroad spur to serve the company's campus. This spur, partially funded by a $1 million Transportation Economic Assistance (TEA) grant from the Wisconsin Department of Transportation, will link Komatsu to existing railroad tracks operated by Union Pacific Railroad and Canadian Pacific Railroad.
As part of a facility use agreement, the company has agreed to retain at least 697 jobs for a minimum of seven years.
"Transportation is vital to manufacturers like Komatsu, and to Wisconsin's other important industry sectors," Governor Tony Evers said when he announced the grant earlier this year. "When we improve Wisconsin's transportation infrastructure, we help our state's businesses be more competitive. That improves the economy and makes life better for all of us."
According to David Misky, assistant executive director of the Redevelopment Authority of the City of Milwaukee, Komatsu needs the spur to receive raw materials and send out finished goods.
The total cost of the spur project is $2.4 million. Komatsu will cover costs above the TEA grant.
"We're excited to see the continued progress and continuing working with the rail companies, city and state for this important piece of infrastructure for our new campus," said Komatsu Mining spokesperson Caley Clinton.
Komatsu's facility in the Harbor District is approximately 53-acres with 410,000 square feet of manufacturing space, 170,000 square feet of office space, and a 20,000 square-foot museum and training building.
Minsky says the rail spur should be complete and operational by the end of 2021. The company plans for some employees to start to work at the new headquarters this fall, with full occupancy scheduled for the spring of 2022.
Komatsu Mining provides equipment, systems, and solutions used by companies worldwide to extract minerals necessary for developing modern infrastructure, technology, and consumer products.