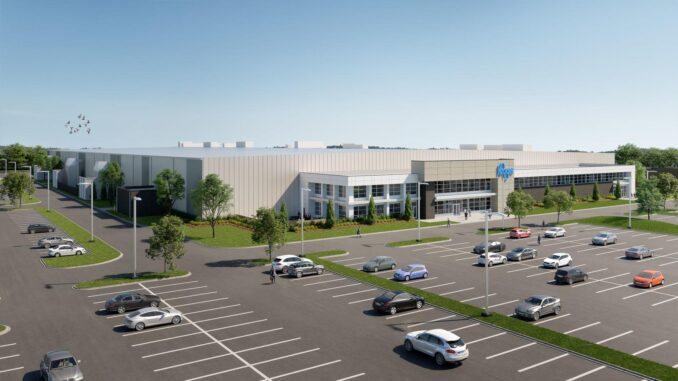 Southeast Wisconsin continues to attract new businesses from out of state, in large part due to its strategic location with proximity to major cities and access to vital highways, including the newly expanded I-94 North-South.
Pleasant Prairie, in particular, is a destination for new businesses looking to expand and grow. Companies recently stating plans to open operations in this part of Kenosha County include Nosco, Inc., Real Chem Manufacturing, Inc., and The Kroger Company.
Nosco, a full-service packaging solutions provider, plans to open a new 170,000-square-foot facility in 2021 to produce offset cartons and digital labels. The location will also serve as the company's corporate headquarters, housing graphic services, solutions engineering, and administrative staff. Nosco expects to employ nearly 300 people at the Pleasant Prairie location.
Nosco is moving to a location along the I-94 corridor. As Nosco President Craig Curran explained, "Nosco is growing and this move allows us the room we need to grow to support our healthcare customers. We are looking forward to supplying cartons and labels in 2021 to our customers throughout the U.S. from this new facility in a strong business community like Pleasant Prairie." He noted that it had taken some time to find the right place for Nosco's future but was confident that this location will set up Nosco for future growth and success.
Nosco, a subsidiary of Holden Industries, Inc., has cited the following reasons for moving to Wisconsin: an enhanced customer and employee experience, supply chain efficiency and operational flow, workforce consolidation and development, and facility optimization and automation.
Furthermore, RealChem Manufacturing, Inc. is relocating its existing business to Pleasant Prairie in Kenosha County from Illinois.
The company, a manufacturer of hand sanitizer, disinfectant, antiseptic, and other products for janitorial, sanitation institutions, and consumer markets, is moving into an existing industrial building in the LakeView Corporate Park. The company will bring 12 members of its senior management group to the new facility and plans to hire eight more senior staff members from the region as well as between 75 to 100 employees.
Lastly, The Kroger Company has recently announced it will build a massive, high-tech customer fulfillment center in Pleasant Prairie. A planned 350,000-square foot, $112 million facility will open after a .8-mile section of Kenosha County H is reconstructed. Kenosha County Executive Jim Kreuser said the reconstruction is necessary due to increased truck and employee traffic that will come when the facility opens.
WisDOT awarded a $951,315 Transportation Economic Assistance (TEA) grant to Kenosha County to make the needed roadway improvements. "Congratulations to Kroger on an exciting new project that brings hundreds of new jobs to Southeast Wisconsin and demonstrates exactly what the TEA grants program is about," WisDOT Secretary-designee Craig Thompson said. "We welcome opportunities to work with businesses across the state to build the infrastructure necessary for growth."
The Kroger Company is the nation's third-largest retailer based on sales and plans to open the automated facility in 2022, initially hiring 350-400 employees and reaching up to 700 within three to five years. Kroger's new state-of-the-art facility will serve customers in Wisconsin, northern Illinois, and northwest Indiana.
The modernization of I-94 North-South has contributed to significant private investment from many companies, including Uline, Amazon, and Haribo.