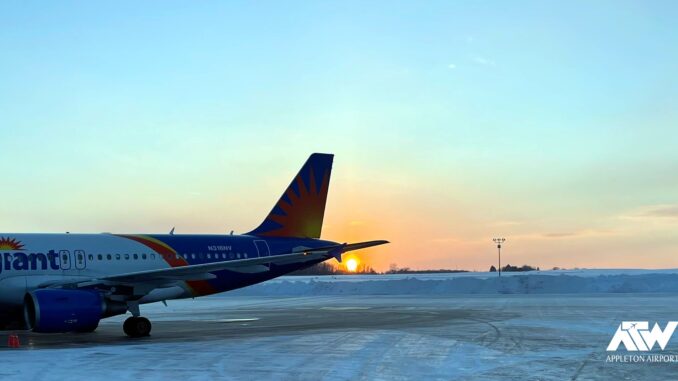 In early May of 2020, Debby Jackson interviewed Abe Weber, director of the Appleton International Airport (ATW), for an On The Go podcast. Debby and Abe discussed ATW and Wisconsin airport operations during "safer at home" orders during that conversation.
We caught up with Patrick Tracey, the marketing manager at Appleton International Airport, to find out what has changed at ATW since that time and what is on the horizon.
About TIME: One year after the start of the pandemic, how is Appleton International Airport doing?
PT: Overall, the airport saw a 52% decline in passengers in 2020 compared to the previous year due to the pandemic. However, ATW's reduction in passenger traffic was less than the 61% drop nationally. The low point was April of last year, when we were down 95%.
We are optimistic about the future. In March, with people heading to Florida and Arizona as part of spring break, we are seeing days of over 1,000 passengers.
The part of the business to come back most robustly is Allegiant Air. Allegiant ended 2020 down only 18%, which is phenomenal. Allegiant flies to Florida and Arizona, which is where many Wisconsinites have family.
Cargo was down 16% for the year. Interestingly, general aviation, the private transport and recreational components of aviation was up 7% in 2020. Our fixed-based operator (FBO) manager believes this is because flying in your plane is the ultimate way to social distance.
We've looked at our business versus leisure mix. Right now, on a given Monday, our customer mix is 50% business and 50% leisure. We are thrilled with that. Usually, we would be at 60-70% business travelers, but we're happy we're seeing business travelers return.
ATW picked up a new route during the pandemic. In November, we began nonstop service to Charlotte on American Airlines. This news was a boost for the whole airport, and even non-American Airlines employees were excited because they saw it as a sign of life.
In the last couple of weeks, we added two Allegiant flights that will start in 2021. A flight to Savannah (Georgia) will start twice a week in late May, and Allegiant is adding flights for the Sturgis Rally coming in August. We will have four flights to Sturgis during those first two weeks of August. Book your flight now.
And in other good news: we have gotten back all of our flights that had been canceled during COVID.
About TIME: When we last checked in with ATW, the focus was on providing the best experience for customers. What improvements might travelers notice at your airport?
PT: Personally, my favorite airport investment was for something no one will ever see. We now have ionized air flowing and an upgraded air system through all our facilities – the airport terminal, the car rental building, plus the snow removal building and the public safety station where we have guys working and sleeping in 24 hour shifts. The system puts a positive charge on air impurities like dust, making them big enough to get stopped in the filter. It puts a negative charge on viruses and germs, which completely kills them.
We purchased a disinfectant mister, and our custodial staff is disinfecting all the surfaces in the airport twice daily with a solution that kills 99.997% of viruses, including COVID. Also, we recently acquired a floor cleaning robot we have trained to scrub the floors all by itself, freeing up the custodians to do other work. All the cleaning services have been a big hit with customers and airport staff.
Our goal is to provide passengers a clean and safe travel experience, and the next logical move was to provide our customers with a better food experience. So, we brought in a Flex Farm hydroponic growing system – a fully self-contained, portable, hygienic, and cost-effective way to grow fresh food in environments where there is no space or time to grow food outdoors. It sits right next to our restaurant on the concourse in view of our customers. We harvest lettuce every four weeks, and then we serve that lettuce on our burgers and sandwiches. ATW is only the third airport in the world with a hydroponic farm system on the concourse, the other two being Dubai Airport and Chicago O'Hare. It is a conversation starter. To see more, check out the coverage from NBC26.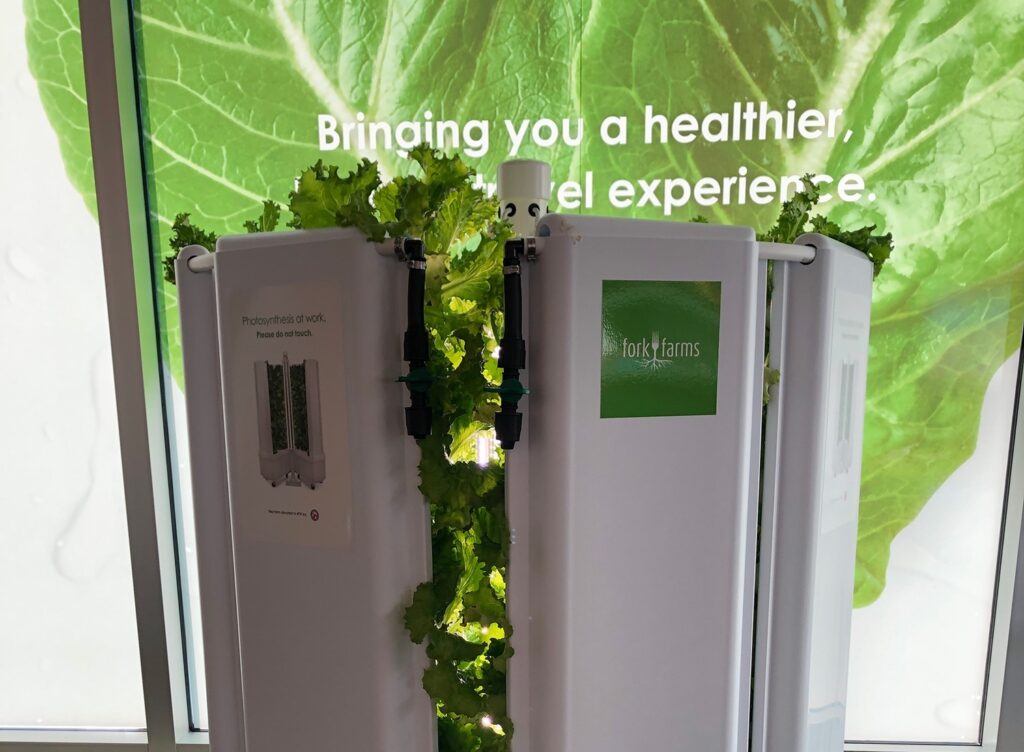 About TIME: How are airport employees holding up?
PT: I did a little walk around survey with employees, and this is what I heard:
"I'm holding up great."
"The numerous safety protocols really made a difference."
"I feel safe at the airport and feel like people are watching out for us and taking care of us."
"I've taken things in stride."
"I love the action of the airport, and I missed that. It was really sad back in April and May to see literally no one at the airport. Now, I feel like there is a light at the end of the tunnel. It's nice to see some of our business customers come back."
So, I guess the overall theme from the employees is that everybody just kept on doing their thing and took things in stride. I would say that morale is good.
About TIME: What are you looking forward to in 2021 and beyond?
PT: We took this last year as an opportunity to kind of reset, and we are preparing to relaunch to be bigger and better. It is time for us to update our master plan, and the team has been looking at new improvements and additions.
Gulfstream recently announced the expansion and renovation of its north hangar, which will be completed this fall. Our campus has a fantastic new Gulfstream maintenance, repair, and overhaul (MRO) facility connected to the north hanger. Gulfstream is upgrading the north hangar, so it matches the new MRO. It will be a beautiful, aesthetic improvement to the airport and add new functionality with a cabinet shop and loading docks. This project will increase efficiency for the highly skilled Gulfstream team.
The ATW ARFF Training Center, the nation's premier center for aircraft rescue and firefighting (ARFF), opened last spring. However, we are looking forward to an official grand opening this summer. This training center is operated by the professionals at Fox Valley Technical College and is located on airport property. The center has the only Boeing 777 Specialized Aircraft Fire Trainer in the U.S. available for firefighter practice.
And, we are anticipating the return of EAA AirVenture in July, since it's one of the busiest weeks of the year for our commercial passenger segment. But the real action is at the FBO, where we'll see upwards of 700 GA aircraft on the ground during the week. We get to see many old friends, and a huge variety of aircraft, including Warbirds, military and vintage planes.