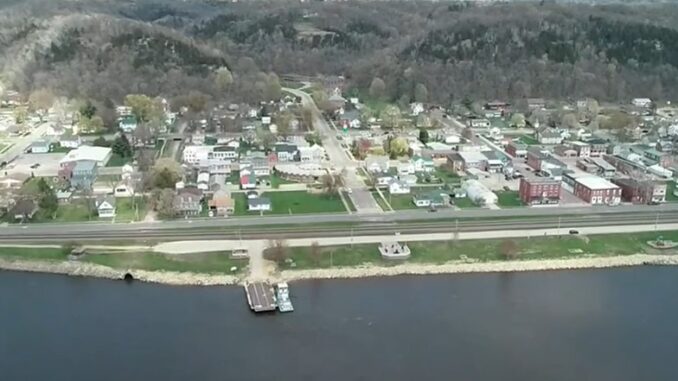 90 years.

That's how long the Village of Cassville, on the western edge of Grant County, has been looking to construct a bridge connecting to Millville, Iowa. Viewed as more than just a physical transportation route, the vision is that the bridge will help create a new economic corridor for both Grant County and Clayton County, Iowa.

Cassville Village President Keevin Williams explains the bridge over the Mississippi River would be a driver of economic development, "If we build the bridge here and we'll have better access to highways, I think there would be more businesses locating here to create more jobs."

Williams also said it would benefit long-haul truckers and farmers transporting goods between states and shared, "This is the longest stretch of Mississippi that doesn't have a bridge crossing, and if you look at Prairie Du Chien and Dubuque, we're pretty much right in between."

But first a feasibility study must be conducted. A bill, introduced by Sen. Howard Marklein (R-Spring Green) and co-sponsored by State Reps. Travis Tranel (R-Cuba) and Todd Novak (R-Dodgeville), would require WisDOT, subject to entering an agreement with the state of Iowa, to study the feasibility of constructing a bridge across the Mississippi River between the village of Cassville and the state of Iowa. WisDOT would not be authorized to spend more than $1,000,000 or cover more than 50 percent of the study's cost.

The cost of the river crossing is estimated at more than $200 million.

The Badger-Hawkeye Bridge Coalition is actively petitioning Wisconsin state lawmakers to appropriate funds for the feasibility study.

"With infrastructure being talked about at the federal level … we would like to be able to latch on and finally get a bridge crossing in Cassville," said Lance Wamsley, co-founder of the coalition. "We're trying to economically revitalize parts of southwest Wisconsin and northeast Iowa by bridging the gap."

According to Wamsley, he started to "push this idea" of the bridge in 2015, after Cassville lost at least 100 jobs when two power plants shut down. "That has a really sizable impact on the economy," he stated. "What we're really up against now is the fact that it's hard to get businesses and industries to move to this area due to the lack of infrastructure."

Even if the Wisconsin bill gains traction, the future of the study depends on Iowa's willingness to allocate money toward a study.