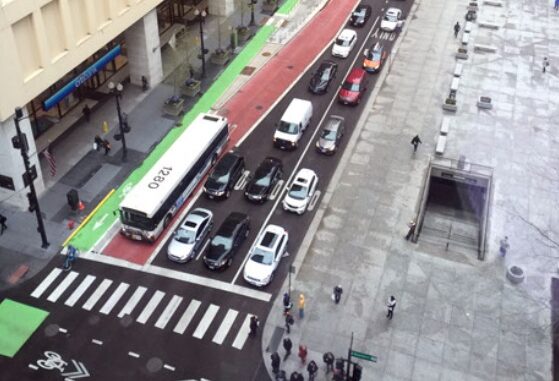 Story updated September 2, 2020
The U.S. Department of Transportation has announced a $40.9 million grant for Milwaukee's East-West Bus Rapid Transit (BRT). The East-West BRT is a 9-mile transit service connecting employment, education, and recreation destinations through downtown Milwaukee, Milwaukee's Near West Side, Marquette University, Wauwatosa, and the Milwaukee Regional Medical Center.

Bus Rapid Transit is a more modern bus-based transit system that delivers fast and efficient service with features such as dedicated lanes, real-time arrival signs, traffic signal priority, and off-board fare collection.

"We're pleased that the Federal government recognizes Milwaukee County's transportation needs by providing their share of support," said County Executive David Crowley. "This is especially welcome news as we look to jumpstart our economy that has been hard hit by the Coronavius Disease pandemic."

The construction of this new service is scheduled to begin this year, with a project cost of around $54 million. Service will start in 2021.
September 2, 2020 update
In July, 2020, it was announced the start of service for the East-West BRT will be 2022.